Hello again friends!
It's time for a new set, and that means a bunch of new commons. Much like earlier Pauper reviews (like for Masters 25 or Rivals of Ixalan) I'm only going to mention cards which might matter somehow or is close enough to mattering that people have drawn attention to them.
Let's go!
Artifacts
Guardians of Koilos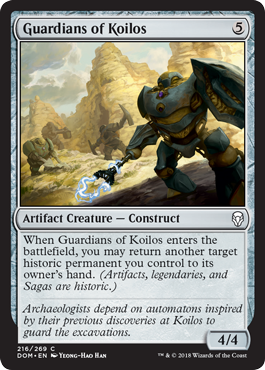 While I know people absolutely love durdling around with Ichor Wellspring and similar, I am pretty sure that if I wanted to put 4/4s for 5 in my deck I'd just play a pile of Self-Assemblers instead. Pass.
Navigator's Compass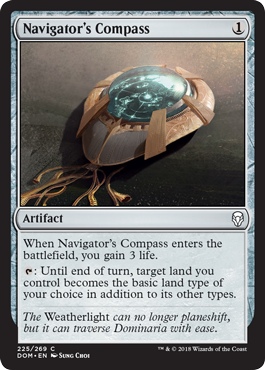 While I guess a 1 mana Artifact with literally any effect at all is worth looking at, I am not really excited. It is a situationally better colour fixer than Springleaf Drum in Affinity (sometimes you have to tap your 4/4s for mana which feels bad), but doesn't actively accelerate you thus is much less explosive and the life gain is pretty marginal.
You could also try it in the ol' Boros Monarch decks since it does curve more effectively into Kor Skyfisher (and works with Glint Hawk) than cards like Lone Missionary, but the Missionary is usually just a 1 or 2-of anyway and it's a side-grade at best. This is probably slightly better against actual Burn, but typically worse against RDW and other aggro since you can't trade with a random 2/2, so I'm going to take the position of Missionary on this one.
Powerstone Shard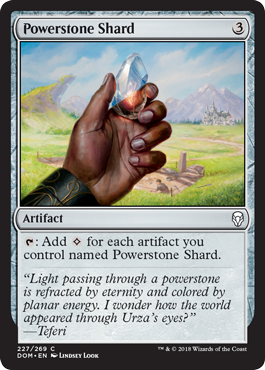 This is a trap. Stick to the Tron lands and the Dreamcast.
Sparring Construct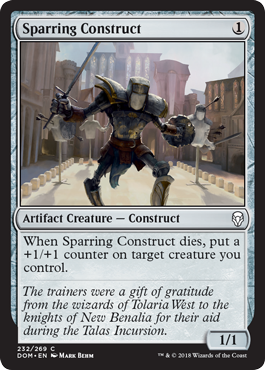 A 1 mana Artifact. So, automatically more likely to see play somewhere in some number than 99% of cards legal in Pauper. Occasionally people slip Arcbound Workers into their Affinity decks (possibly out of nostalgia) and this will usually be better than that since it works with Atog and Carapace Forger.
You can now also make a theme deck with this, Worker and Servant of the Scale! You know, if you are so inclined.
Green
Yeah, that's right, I'm doing the this in reverse WUBRG order. I've got to get my thrills somehow.
Adventurous Impulse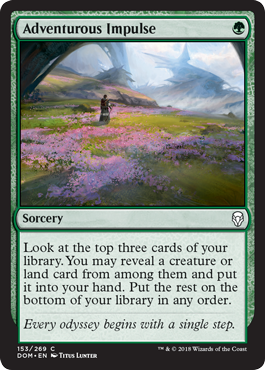 Okay, this is pretty good. While it's no Oath of Nissa much less a Ponder, it does boost the consistency of creature-based Green decks in a way that might encourage reevaluation of previously dismissed decks which were previously 'okay, but too inconsistent'. As a somewhat silly example, maybe your deck based around Overgrown Battlement and friends was sweet, but fell over itself too much. Now that deck is much better! It's probably still only semi-competitive, but you get the idea.
You do need to be playing very few misses though, since failing to hit is such a disaster. Finding a home for this is tough (I don't think it goes in current builds of Stompy or Green Tron or Tortured Existence for example), but it is a good enough card to try brewing around.
Broken Bond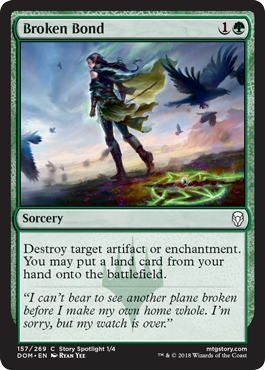 Pauper has infinite Naturalize effects that are good at different tasks, and in the grand scheme of things this will barely matter. This seems to be a solid option for decks interested in ramping as a plan A though, and goes well with bouncelands, but I only care about that because I like making sketchy multi-coloured attrition decks.
Krosan Druid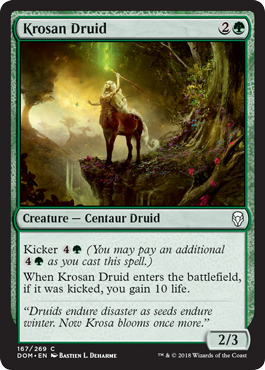 Ten life is so much I am willing to believe you can put one of these in your Tron deck, since the 2/3 fail case on your lifegain spell is not utterly horrific. (compared to say, 'I can't cast my Pulse of Murasa due to no legal targets' or 'whoops no White mana for splashed Circle of Protection: Red')
Still, there were no shortages on giant lifegain spells available so this won't make much difference. If you felt like kicking Burn decks in the face, you already could.
Llanowar Scout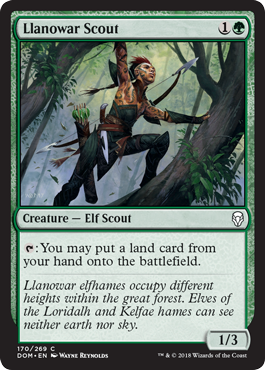 Every additional card they print with this ability gets us ever closer to some kind of weird land-based combo winter where we will all bow down before our Suncorched Desert overlords.
Not yet though.
Saproling Migration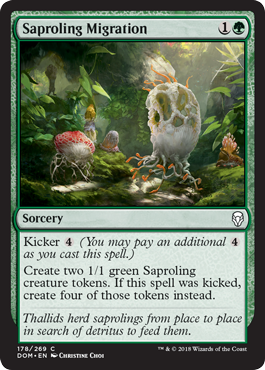 It's a useful role-player if you want this effect I suppose? There are probably some mediocre decks that are better facilitated by this existing.
Red
Ghitu Lavarunner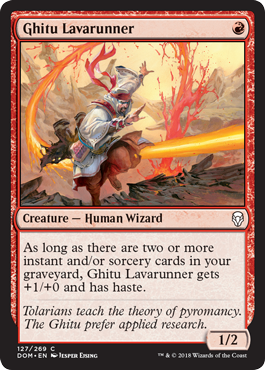 If only there were some kind of Red(and Blue?!) spell-based tempo deck, this could conceivably have a home!
I kid, but this is a legitimately good card. Currently the ideal home for it is too-blue focused and synergistic to find room for it, but I could see playing it in Burn decks or 'classic' RDW style decks, or in Blue/Red decks if cards get banned at some point.
Wait, is that it for Red? Yeah, sadly. I will quietly be rooting for some courageous maniac playing a Tron mirror to kick Keldon Overseer on Ulamog's Crusher, but everything else is just worse than already existing cards, or one mana too expensive to remotely justify, like Radiating Lightning.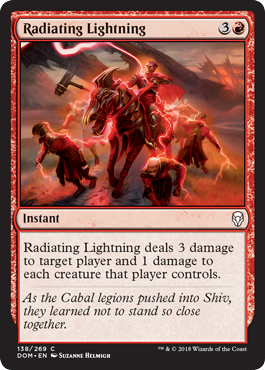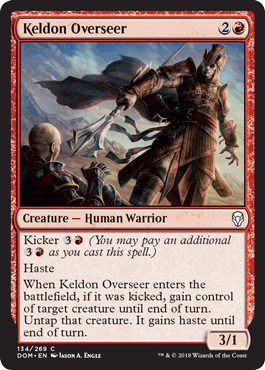 Black
Divest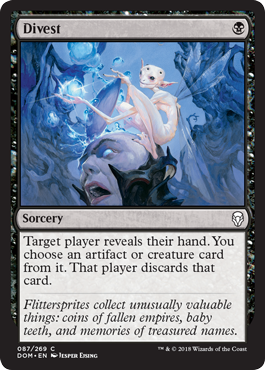 A plausible sideboard card. Good at sniping Tron's Prophetic Prism on turn one to colour-screw them or snipe a Mulldrifter later. Versatility is nice!
Fungal Infection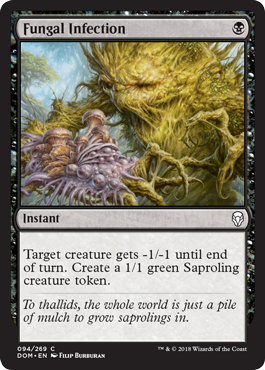 I like this! I've considered Fourth Bridge Prowler before as an extremely efficient value card, but it was just too awkward. Being an Instant helps this effect a lot, and having a random creature hanging around is great for the new removal spell below. Looking forward to giving many Elves and Delvers a severe case of athlete's foot in the future.
Rat Colony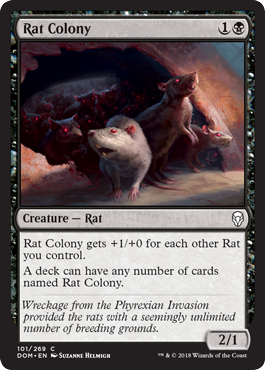 See my thoughts on Relentless Rats. Except this is an even bigger trap since they all die to Electrickery.
Vicious Offering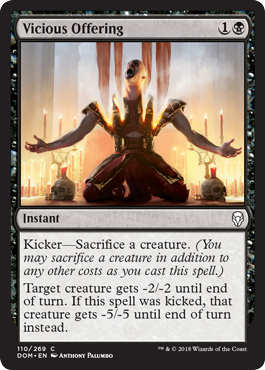 Black has had a bit of an awkward situation when it comes to removal spells for a while now. Despite having a vast array of excellent options at 2 mana, each had issues. Depending on what your opponents were doing, your Edicts would sometimes be bad, then you'd want targetted removal, but then you'd end up not being able to kill Gurmag Angler for various reasons.
(Gurmag isn't seeing as much play now as it has done in the past, but it might make a comeback!)
This card kills most things early, and hooks the big Zombie Fish with some effort, so it gets to firmly join the arsenal of real removal options. A deck like Teachings will need to account for the Kicker a little bit, but a few value creatures and Fungal Infestations here or there can go a long way for any Swamp-wielding magicians.
Blue
Unwind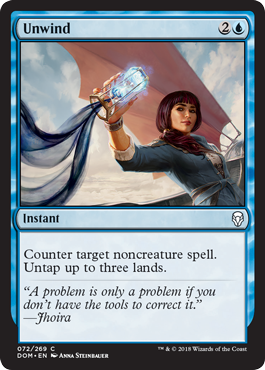 Rewind currently doesn't do much in Pauper. However, with a mana discount (important for Counterspell wars) I could see one or two of these sneaking into a Teachings deck at some point, since it is pretty valuable to hit something and still be able to draw cards. Fringe playable.
Vodalian Arcanist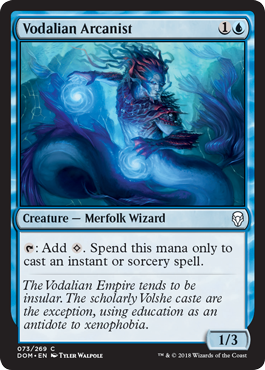 This has enough of a body to be relevant on defence as well as assist in enabling cool-yet-underplayed cards like Deep Analysis and Capsize without necessarily putting Tron lands in your deck. Somewhat hard to justify while you can put Delvers in your decks, but I enjoy the bigger Blue decks on a personal level.
White
Charge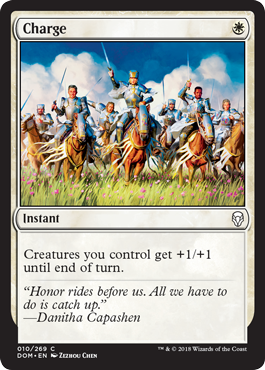 I'm a little surprised this effect with this name took this long to see print. It's (kind of) the cheapest this effect can be, the card Wojek Siren wishes it was. It is very slightly better than Ramosian Rally on offence, (in terms of being able to attack with everything even if you have multiples) but much worse as a hedge against Electrickery.
Overall Ramosian Rally is going to have four slots in your deck before the first one of these, if you want that effect, but if you're really keen on making tokens and giving them all a small bonus it does the job.
Invoke the Divine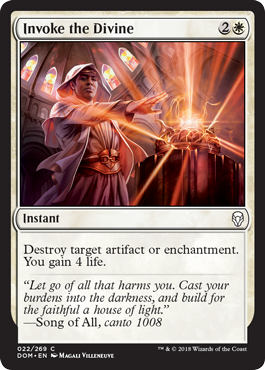 Wow, Decommission and Solemn Offering can just eat it, huh?
It's just enough lifegain to make the three mana somewhat acceptable, Solemn Offering was reasonable value but was too clunky. Now you just need a slow White deck that wants incidental lifegain to lock up a game. That… honestly doesn't come up very often, but if your opponent is aggressive AND has things to kill this is a real kick in the teeth.
(Yes, I have cast Solemn Offering on a Curse of the Pierced Heart. Yes, they were not happy about that one bit)
Serra Disciple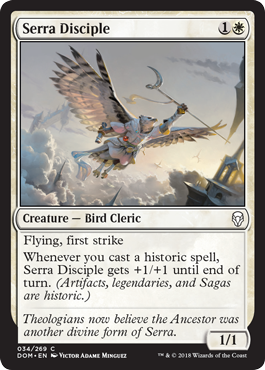 No. Cast Auriok Sunchaser instead.
Alright! I'm pretty sure that is every card that can conceivably make an appearance, even as a fringe playable. Did I miss anything?
I am definitely looking forward to getting my hands on Dominaria, even if the 'Legendary Matters' theme is inherently never going to be the most relevant thing in the world to Pauper.
See you all next time!
Stephen 'Jecht' Murray
p.s. feel free to follow me on Twitter @JechtMurray if you're into that sort of thing.