Hello again friends, it's time for Pauper. It doesn't feel that long since Rivals of Ixalan, but the more commons the merrier.
While I wasn't really paying attention for the last few Masters sets, they tend to bring along downshifted cards (commons that used to be uncommon or rare) and so they actually usually introduce some relevantly powerful cards. 20(!) cards are newly common, so heck, let's just look at them all!
White
Fencing Ace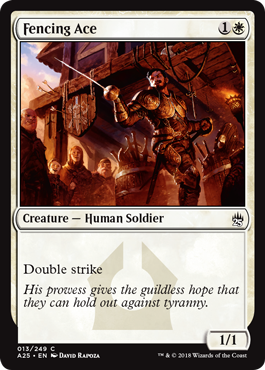 Double Strike isn't exactly a regular occurrence on creatures at common. The natural place for double strikers is alongside power-enhancing things to take advantage of it, so a Double Strike theme deck is basically now another deck that could exist on the varying axes of speed vs. reliability vs. resilience vs. adaptability that all these decks that are variations on 'play creatures + put spells on them' exist on.
Between Viashino Slaughtermaster and Fencing Ace at 2 mana, plus Two-Headed Cerberus/Skyhunter Skirmisher at 3 there are technically enough creatures if you wanted to draw them reliably enough to work.
Such a deck would probably end up faster than say, Stompy or Heroic, but a little bit slower than Infect. However the horrendous toughness levels and lack of any kind of protective abilities make the resilience of the creatures pretty low. So, basically Infect, except you give up having a one-drop for having first strike against 1 toughness blockers.
My prediction is that people will try this deck, die horribly to removal the vast majority of the time (at least Heroic creatures get bigger when you use protective spells on them) but someone will 5-0 at some point, lining up some good match ups in a row.
I suppose you could also technically want Fencing Ace as a surprise sideboard plan for pure race match ups, in decks like Bogles where the opponents might end up with actual zero removal spells, but I don't think so.
Geist of the Moors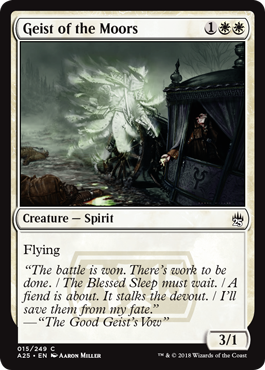 White Weenie decks always have basically infinite choices in the realms of 'this is a decent rate, I guess' level of cards. This one dies too easily with too little payoff to make worthwhile.
Loyal Sentry
Huh. So it basically has slightly better deathtouch on defence. It looks internally contradictory since you don't usually want to put defensive cards in a deck that would be able to cast a 1/1 for W, so aggressive decks won't be too keen even if it's kind of annoying for certain decks to get past.
So it doesn't go into existing decks. However, there is a glimmer of hope, since you can do cute tricks with Momentary Blink and friends. (Block, trigger on the stack, Blink, ability resolves killing their thing, but Sentry is technically a new creature and doesn't die)
I guess I could imagine it if you wanted to make some kind of defensive Blue/White deck for whatever reason, and you wanted a 'cheap removal spell' that isn't Sunlance.
Sadly this would normally just eat some enemy removal, thus it is hard to rely on. Even when you think it might be good, it's never going to straight up stonewall enemy decks by itself. Bogles has Umbras, Stompy has evasion, combo kill decks have random cards to ignore blocking altogether, and so on.
There is *something* there though, Momentary Blink is very powerful, so if UW eventually gets enough tools to warrant playing over UB (even if just as a specific metagame call), Loyal Sentry has a shot at finally fulfilling the role it was created for.
Savannah Lions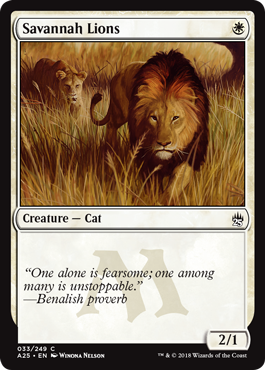 I'm just happy to see it, you know? Just look at it, it's lovely.
Anyway, technically a bit worse than Elite Vanguard since you don't get any Soldier synergies, but for non-Soldier decks you get some redundancy in the '2 power for W' slot. It's fine, people who liked attacking with Lions in the past can attack with Lions now too, it's not embarrassing, but kind of underpowered/lacking in utility.
All the 'new' white cards get murdered by Electrickery. But it is a slightly bigger sin for a card meant to be in a White Weenie strategy to be killed by that, since you want to avoid playing multiple creatures into being blown out for 1R at all costs. Still, maybe the extra morale boost obtained from casting ye olde Lions is enough.
Blue
Borrowing 100,000 Arrows (I'll give you them back next week when I get paid)
A+ name, but generally bad. Might sometimes see play as a 5th, *much* worse Keep Watch. (worse because you can't attack, draw a million cards during combat and kill them with shenanigans)
I guess it might be fun in some kind of Turbo Fog deck, if you're into that kind of thing.
Court Hussar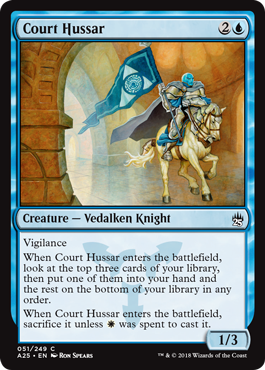 Oh boy! Secretly a UW card* this was standard playable back in the day. Much like perennial favourite Sea Gate Oracle and more recently Augur of Bolas, you get some somewhat acceptable blocking attached to card draw.
While this has by far the best ability, the mana cost is actually surprisingly restrictive. UW has historically been pretty ropey in Pauper since Black or Red are typically better partners for Blue, they just have more/better tools. Also this doesn't survive being Blinked, even if you do get some value from it, which is a bit awkward since Momentary Blink is probably the best UW card.
Maybe when they print the White Gurmag Angler, it will be time to get frisky with the Hussar.
*mostly, unless you plan to specifically want extra Unearth targets, or want a 5th 2U card-draw creature that puts itself in the graveyard for you.
Dragon's Eye Savants
I… I mean it's really tough? 6 Toughness is so much toughness, I think this is a defensible card if you want to be a Mono-Blue control deck. People love playing Mono-Blue all-counters decks, but until they bring Desert to Magic Online at Common, they will always struggle horrendously against 1 mana plays.
Anyway, a 2 mana creature that buys you this much time (it can block Myr Enforcer!) is probably better than it looks, even discounting the possibility of tricking the opponent into trying to burn this to death while existing as a 2/2.
Ghost Ship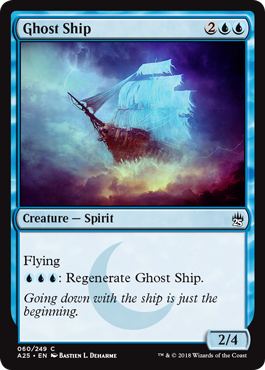 Oh my goodness, Ghost Ship is just the absolute coolest card. I absolutely ship this card with my decklists (GhostLists?), but I have to be realistic and say it's not going to be a real player in Pauper. If you want a 2/4 flyer in Blue, Spire Golem is so much easier to play and protect. If you're not playing mono-Islands to play that card, actual quintuple-U is an outrageous cost to have to have in order to play it and hold up regeneration.
And even then, regeneration doesn't do anything against bounce, exiling, or a multitude of black removal spells, or enemy 2/4 flyers, despite how amusing it would be to just ram your boats into their boats, repeatedly, while making naval puns.
Black
Relentless Rats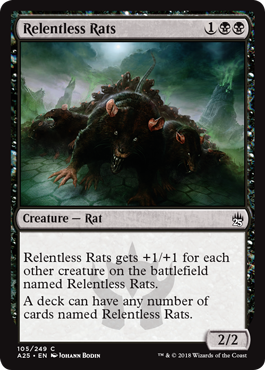 Okay, you already know if you're going to make a Relentless Rats deck. You don't need me to tell you anything. Do the thing, live the dream!
Seriously though, there is *so* much removal, and 3 mana makes it so slow to get going, I can't see it being good. If you're thinking, control the game, then start laying out rats, I have to question whether that's a better fit for the plan than the usual MBC 3 drop creatures paired with Gray Merchant as a win condition. I suspect it is not.
Ruthless Ripper
Black already had access to 1/1 Deathtouchers for B, and the Morph ability isn't going to lead to this card ripping many people a new one.
But hey, it is clearly *better* than Pharika's Chosen, and maybe lots of people start playing large ground creatures.
Red
Balduvian Horde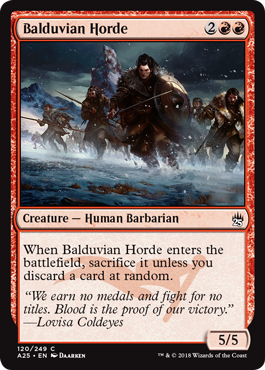 Red midrange decks aren't really a thing. Well, when they are, they are usually alongside Black cards, meaning you get to play the Zombie Fish instead.
I mean, most decks in Pauper are equipped to beat a 5/5 creature in some fashion, either by going above/below it, or just having removal. Having this removed is a disaster, and it's too expensive to realistically pair with Madness cards (which you might not even get to discard).
The only place I can see it is in sideboards for say, Red mirror matches, since they are not likely to be able to cleanly deal with it, and it does murder the opponent pretty quickly. (you both kill each other's early drops, letting the game last long enough for this to matter)
Cinder Storm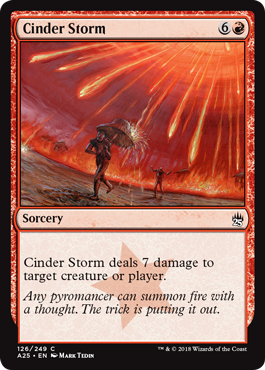 Woah, I have never seen this card before in my life. I love Lava Axes, but 7 mana is too much to ask given how excellent the cheaper burn spells are. Tron decks are too occupied with Rolling Thunder to want this. Sad times.
Crimson Mage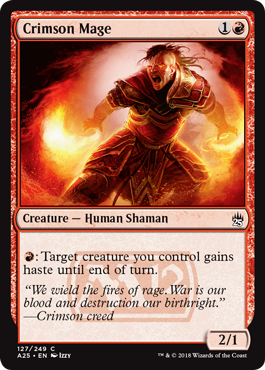 I guess you might play one or two of these in a RDW deck or something, it's fine, nothing special, helps later-than-ideal Goblin Cohorts out greatly. Since RDW is made up entirely of 2/2s, you don't need to worry much about incidental Electrickery.
Frenzied Goblin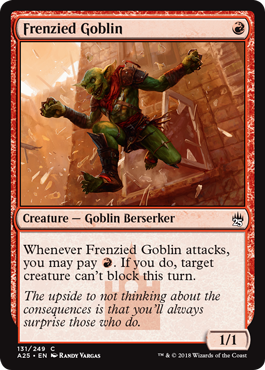 This card is good! It's powerful! It's just not exactly what Goblin decks are looking for. Pauper Goblins don't have hard-hitting Piledrivers to push through, and isn't all that versatile. Part of the appeal of Goblins is that you are surprisingly flexible with all the tokens and Sledder effects, and this does one thing.
I'd probably start by trying a couple even with that said, it's just not an automatic 4-of.
Hordeling Outburst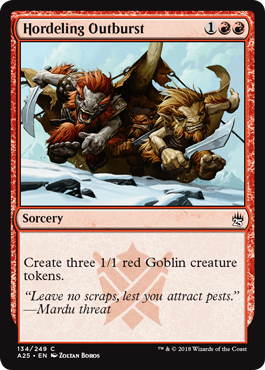 This is more like it! I think this is guaranteed to find a home in various spell-based decks, Goblin decks and weird token decks. Outside of Electrickery, there aren't many cards that answer this cleanly, and it's hard to understand without playing against it how much more annoying that third token is compared to Krenko's Command.
It's also notably a clean way to curve Sparksmith into a spell and be able to kill a Myr Enforcer.
Jackal Pup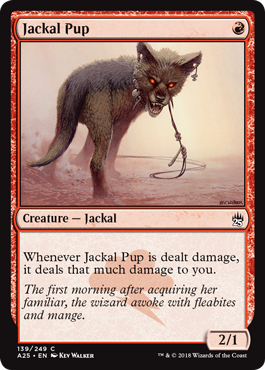 There's a limit to how bad 2 power 1 drops that freely attack can be. Red does already have a bunch of 2/2 creatures for R with various conditions, and I don't think this changes those decks that much given that you still need to play like 32 creatures in those decks anyway. It's not even a Goblin for tribe combos.
This does make it a bit more plausible to build more of a 'Classic' RDW deck versus the 'all-creature' or 'all-burn'* Pauper Red decks, so that's nice. Just remember to bring them out in the mirror matches, Searing Blaze on a Pup is a comical beating.
*i.e. most Pauper Red decks are like, 20-ish land with 8-ish spells/creatures and 32 of the reverse, not 20/20/20 as 'Classic' RDW would be.
Pillage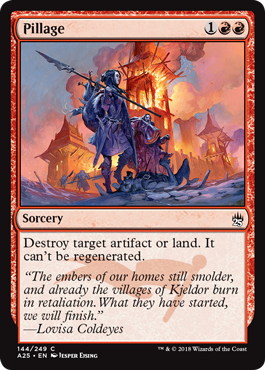 Wow, Red's really getting the goods in this set. Pillage is incredible, and helps facilitate some deck types that were previously not good enough. Sure, you already had Stone Rain to back up Molten Rain, but the problem with Land Destruction strategies in Pauper is that they are extremely polarised in their match ups.
Typically, in order to even play enough LD spells in your deck to make yourself good against mana-hungry decks (i.e. the whole point of playing the deck) you just kind of concede various aggro match ups. Pillage being a real spell against various Myr Enforcers, Spire Golems, Bonesplitters and Vault Skirges is absolutely massive and will help tremendously by not giving you 8+ complete bricks in your deck by default.
I still think these decks will be rather bad by default against decks with 1-drops mind you, but I'm saying Pillage takes them from 'practically never able to win' to 'not unreasonable to think you might win' against various decks.
I anticipate that until lists get refined into something better, there will be a lot of maniacs playing Mono-Red 12-Stone Rains, so RIP bouncelands for a while. People might also just jam some in Rakdos control decks or something, trying to mise bad match ups.
Skeletonize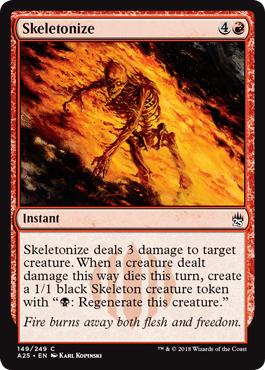 Unless the infamous MTGO Skeletonize bugs are back and you're generally evil, there's no reason to play this.
Green
Ainok Survivalist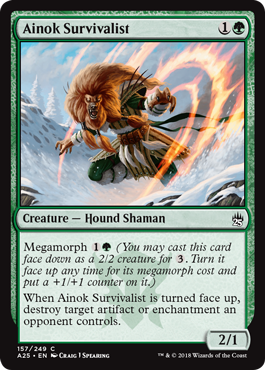 Nantuko Vigilante sees no play. This is a bit better in that 'maindeckable Naturalize' role since you're happier with a 2/1 for 2 than a 3/2 for 4 most of the time. It's still bad in the sideboard since you usually need efficient answers, not slow ones.
It's not enough better to be widely played, but it's certainly feasible to show up as a miser 1-of now and then.
Wait, 1 card for Green? Red got all those goodies and Green got 1? At least it can commiserate with Artifacts.
Artifacts
Assembly Worker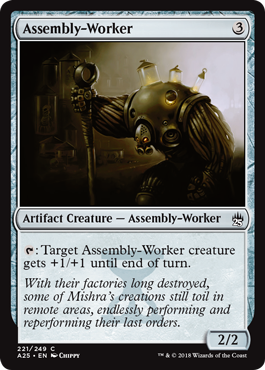 It is just too terrible to put in your deck, no matter how cute it is to finish off your Self-Assembler chain with one of these. Draft only.
Gosh, that's more cards than normal which can conceivably be put in decks without actively making indefensible deckbuilding decisions! I am looking forward to trying out some of these eventually.
Pauper is a ridiculously slow format to change, but I am quite confident some of these will survive the initial experimentation stages and continue to matter over the long haul, even if just a little bit.
See you next time!
– Stephen 'Jecht' Murray